Monday. Falmouth to St.Mawes by ferry, thence St.Austell and Liskeard with quite a lot of climbing.
Wow, we are really on our way. Down to The Moor at Falmouth for 8:30 where a small party gathered to see us off. Once again the adventure starts with a crossing of the waters – this time the Fal Estuary/Carrick Roads.

Weather good for cycling, light cloud and hazy sunshine, wind SE variable. The St.Mawes ferry carries bikes free of charge – yay! Fortunately it was high tide so getting the heavily laden donkeys on board wasn't too bad – at low water it would mean carrying them down wet slippery steps.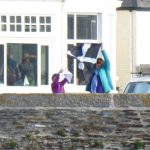 As St.Mawes quay hove into view two figures waving a Cornish flag could be seen – the marvellous Luci Isaccson and daughter Lydia had come out to greet us an send us on our way. A coffee and cake break ensued (already!). Many thanks Luci.
Starting the climb out of town a group of random passers-by saw the flags and cheered us on our way. Very encouraging.
One up the top the road along the Roseland was undulating and soon our way was off the B road with occasional cars and into quiet Cornish lanes. A fabulous ride, with the hedgerows entering their Cornish spring riot of colour phase, long distance views, conversation, endorphins kicking in in the light sun.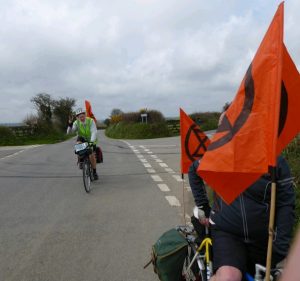 Good progress was made, with the rolling average pace hovering around 14km/hr – not bad for the terrain and loads. We dropped down into London Apprentice topping 50km/hr on a smooth but narrow descent against oncoming traffic, back down to sea level. Picked up the cycle path up into St.Austel with legs well primed for lunch. 36km done and on-time at 13:00
Tengo Cafe does a good all-day breakfast special. With bikes with XR flags prominent outside various people came in to chat – hi Pam from Fowey, old time Ecology activist – some asked what it was about and were interested and supportive. A party of four young cyclists, including a tandem, embarking on day 2 of LEJOG followed us in. Aiming to get to the top in 12 days – good luck to them.
An hour seemed to pass too quickly and then back in the saddle for a long climb up out through Tregurthy and Luxylyan to Lanhydrock. Much more hilly than the morning (which had seemed quite hilly enough), but doing ok. My left knee starting to ache a bit. Down round Lanhydrock to cross the Fowey then a relentless long, seeming never ending, bottom gear climb back up again. Definitely needed a little rest after that.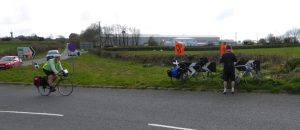 The stretch along the A390 for 6km towards Dobwalls was not nice – traffic and undulating, but at least it wasn't the A38 which we joined on an adjacent cycle track for the last bit from Doublebois to Dobwalls. And there waiting was IanB with his XR Gilet Jaune to guide us into town for a quick cup of tea at his place before meeting the SE Cornwall XR crew in the centre.
A fantastic reception in Liskeard with XR-Choir, banners and friends old and new. Sheryl Murray MP had her office door plastered. The Liskerret Hub Cafe did us proud and fed us most well.
tracklog to follow, we more or less did the planned route