Wednesday. Launceston to Barnstaple with a late lunch at the Puffing Billy. 70km.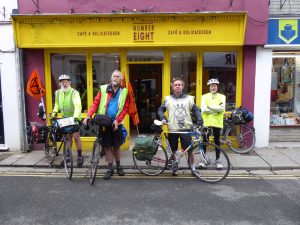 An excellent day both in the saddle and socially. We assembled at No8 cafe in Launceston for a cup of coffee and away by 09:30. Sweeping down to recross the Tamar, leaving Cornwall behind the climb up to Lifton Down was about the hardest of the day.
Once up beyond Lifton the lanes were empty and the riding good. Slightly cold at times in the Easterly wind, but very pleasantly the kilos slipped away beneath our wheels.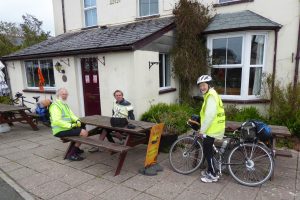 Hit Hallwill Junction twenty five past, that being the point about half way, quarter to twelve we was was a-rollin' again. (mash up of lines from two songs there, many points if you can name them and the artist) – the pub being not open yet for the advertised morning coffee we made do with a takeaway cuppa and a doughnut from the shop.
Down to the Puffing Billy slightly before 2pm (aside from Ewan who got sent on a wild goose chase to avoid what Ian and I thought was a rough section of the Tarka trail that turned out to be good tarmac – sorry Ewan, mea culpa for two or three nasty extra climbs.
Ricky and friends waiting, great to meet up again. We planned on a lunch stop, Ricky wanted to get on to arranged meetups, we prevailed which was ok apart from the slower than anticipated service…much champing at the bit, but refreshed and refuelled we made good time on the flat down to Bideford arriving only 20 mins later than Ricky had planned. Led by the redoubtable Simon on his recumbent hand cycle – amazingly fast.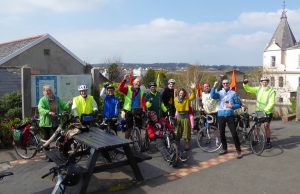 A group awaited us there, quick photos and then on to another photostop at Fremington cafe and finally into Barnstaple where we were joined by more local riders for a slow procession occupying the road into Barnstaple centre.
More supporters there forming a reception committee. We'll done N.Devon XR and thanks for the support.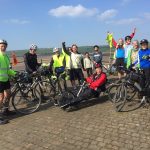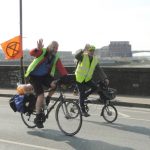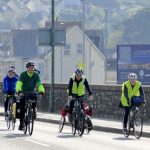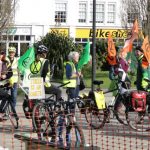 Cakey tea in the bike shed then off to change for the evening entertainment…
…which was wonderful with Ricky mc'ing a parade of talent both musical and spoken word from all. Excellent inspirational stuff shared including Dave from Torrington who did When the Ship Comes In (Dylan) and is doing a full performance from memory of The Masque of Anarchy in a couple of weeks – since I had an extract as part of my contribution we did it as a duet.
Lots of other far better contributions too. That is two brilliant proper pub evenings sharing talk and creating culture. Citizens of Engurland, step away from your screens now and talk to each other and listen to each other. A new world is within us, just let it out to breathe.
This morning 45km at 14.1km/hr average, with another 25km and higher speed after late lunch pushing the day moving average up to 16.7km/hr over 70km.