Thursday. Barnstaple to Taunton with lunch at the crossing of the Exe.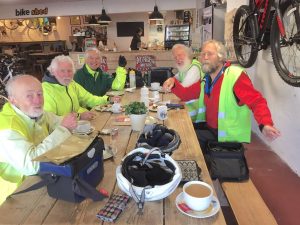 There were five of us this morning, there are only four this evening, but we must go on. A longish day with quite a lot of hills, a lovely pub lunch in the sunshine, beautiful scenery with views of Exmoor across the valley to the north and a wonderful reception and evening in Taunton.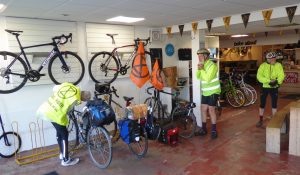 Bright and Clear. Breakfast at the Bike Shed. With local riders there were about ten of us set off in high spirits to face the first long slow ascent out of town to the East. Having not eaten the previous evening I found that there was no power at all in my legs and I was soon way off the tail and seriously worried that I wasn't going to make it through the morning, never mind to London.
Eventually the climb levelled out and shorter downs and up ensued. And eventually breakfast started to kick in and I was feeling better.
There was a definite chill in the wind from the east but the sun was shining and the riding good. Gradually all bar one of the local riders peeled off and we followed Ricky's route to South Molton which tuned out to be shorter and better, even if it gave Miss OSM a headache. Roads quiet.
South Molton we stopped at the Griffin organic food shop an coffee shop for a morning coffee and cake. Ricky stepped outside to take a phone call and returned looking absolutely devastated. He was originally joining us to London, but L'Anne, his wife has been badly ill and he had switched to only being able to come for a couple of days. Now he told us with deep emotion that he was going to have to return home immediately.
It was a shock to all of us, and sadly he left us to retrace his revolutions. We, however, pressed on. One of the Barnstaple riders stuck with us for the day and we welcomed his company. The scenery and the ride couldn't help but lift the mood and we reached The Anchor at Exebridge more or less on schedule.
Just before we got there the quiet lane passed through a farmyard and a group of young children by the side of the road with jars of daffodils to sell. We couldn't help but stop to haggle since there was clearly very little passing trade, and rode on with a daff apiece variously attached.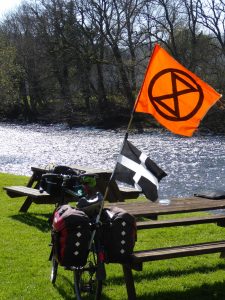 Ewan had arranged to meet us at the lunchtime pub, having had to travel back to Bruton from Barnstaple for mayoral duties the previous evening. He got the train back to Tiverton Parkway and had a good ride up to Exebridge. And there he was when we arrived.
The Anchor was a lovely riverside pub with good food and garden. From the number of outside tables I would imagine that in summer it is heaving, but on an April Wednesday we had it more or less to ourselves.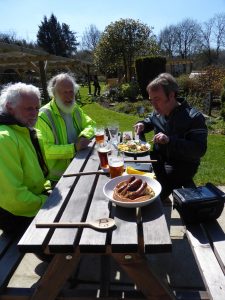 Naturally we had to have a pint with our food with predictable consequences (#wobblylegsintheafternoon)
The first challenge was half a mile after leaving – the lane started to climb out of the Exe valley, getting steeper and steeper as it went up – it was long, and tough (around 22% at the worst bit) and some (but not all) of us did have to walk. From there continued a glorious ride through the Devon Somerset borderlands – a lot of up and down but eventually we could see flatter country to the South East and what we hoped was the last downhill from the high ground – it wasn't of course, but our tired legs had hope in them.
We also met the first impatient driver of the day – a blue van which tooted along behind in a narrow lane as if it thought we could fly over the hedge to let him (it was a him) pass on his terribly important way. On the whole drivers are very good at allowing for other road users now – much better than 30 years ago – but there is always the occasional tosser.
Eventually we approached the railway and a stray rider appeared – round the corner the level crossing and a whole group of a dozen or more waiting at the Allerford Inn with cheers and good cheer. A wonderful reception – thank you Taunton XR – I was so overcome I forgot to take any photos!
In a mass we rode the last few miles in to Taunton, and then paraded around the town centre a couple of times before assembling by the river to disperse to our digs and plans for the evening.
Our hosts were most accommodating and joining us for some of the ride the next day. A quick shower and then out to the evening meal – a sumptuous feast which we couldn't linger over as the evening session at CICCIC was starting.
The CICCIC Arts Centre is a great venue – a band was playing – Giant Robot Bodies – which turned out to be a very good local rockpunkfolk group with a political bent to their songs (their strange name gives no clue to the style). Pete the Poet performed, we did our bit, a short video, more poems and music, a bar, much talk, some dancing, and back to bed – at least tomorrow should be easier.
82km, 1230m climbing – not quite as much as day 1 – about 12km/hr moving.